With a Florida destination wedding, you can get all of the perks of a destination wedding without actually travelling abroad. Avoid the hassle of planning a wedding from abroad and paying for international flights by having a "destination" wedding in the US! Even if you aren't dreaming of a beach setting, and just want to escape the cold winter months, Florida could be your best bet with sunshine all year round. This also serves as a great mini vacation for all of your family and friends. We've rounded up Florida's most popular spots for a destination wedding and how each city differs in their unique feel and style, allowing you to pick the perfect spot for your wedding!
Tampa and Orlando:
In these cities you'll find the less traditional "Floridian" venues. Though these cities boast sunshine year round, views will vary from golf courses and city views, to lakes and bays rather than a beach backdrop. These family friendly cities have the most selection of venues and are easily accessible to large, International airports. There will never be a shortage of attractions and things to do in the area for your guests in these tourist heavy cities! One of our favorite hotels to work at is the Tampa Marriott Waterside because of its stunning bay view and versatile spaces. Be sure to book well ahead of time if you're interested in these cities due to their high demand for conventions and events.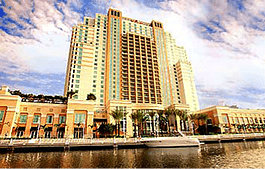 Ft. Lauderdale and Miami:
In these two south Florida cities, not only will you find blue oceans and palm trees, but you'll also get the perks of a big city with some nightlife. The Hollywood Beach resort, The Diplomat Resort & Spa, located just north of Ft. Lauderdale, boasts incredible views of the crystal blue ocean with many different outdoor and indoor venue options. These bustling cities are just miles away from their respective International airports, allowing guests to get back and forth easily with many flight options.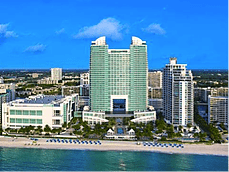 Naples, Sanibel Island, Captiva Island:
If you're looking for a sandy, barefoot wedding on the beach—consider locations such as Naples, Sanibel Island, or Captiva Island. With miles of beautiful sand and water, you will truly get an island feel in these locations. These towns are less crowded than the Ft. Lauderdale and Miami cities making them great options for an intimate beach wedding. We recently worked at the beautiful Ritz Carlton in Naples for a client's wedding and had a wonderful experience working with the amazing staff there. Though these towns don't have large International airports, they are easily accessible by land and have airports nearby.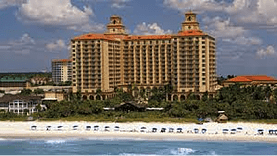 Looking to hire a wedding planner for your dream destination wedding in Florida? Contact Eventrics today for full wedding planning and management services!