With the advent of sites such as Pinterest, finding inspiration for your wedding day has never been easier with thousands of photos and ideas right at your feet. With all of this inspiration, many couples are opting to incorporate more non-traditional aspects to their wedding, adding a bit more of the couple's personality to the wedding as well as keeping things fresh and exciting for your guests. Many of these non-traditional aspects are quickly turning into trends and have made the wedding planning process much more creative and personal. We've come up with a few trends that we love and are easy to incorporate into your wedding day!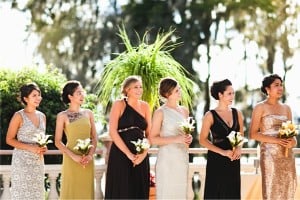 One of the more common trends we have seen recently is having your bridesmaids in entirely different dresses and colors. One of our Eventrics' brides who got married at the Isleworth Country Club depicted exactly how it should be done. The olive, gold, ivory and black dresses were perfectly contrasted with the outdoor greenery. Now, we aren't saying to throw your bridesmaids in a mix of random colors, but having a slight variety of colors and styles can add some character to your bridal party while allowing each bridesmaid to feel comfortable in the dress they choose.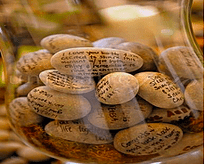 Another aspect of the wedding that can easily be made more fun and memorable is the traditional guest book. While the traditional guest book is used often, many couples will rarely open it up more than once after the wedding. There are other options out there that will not only be more memorable, but also useful for the future! One idea is to have your guests sign stones with small messages that can be kept in a large vase. This vase will make a great addition to the couple's new home décor as opposed to being stored in a closet for years. A more personal option is to have guests write "advice for the couple" notes in little envelopes instead of the standard signature. These notes can be read for years to come by the couple and never grow old. Lastly, you could lay out a few polaroid cameras and tell guests to take silly photos of themselves. This will give the couple a better glimpse into the wedding day from their guests' point of view!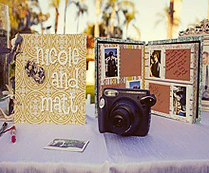 When it comes to the ceremony and reception, there are a few things you can do as a couple to make the event more unique and intimate. Instead of having separate sides for seating the bride and groom's families, you can ask guests to sit on either side they choose. This is a personal touch that depicts the true essence of a wedding—two families becoming one! At the reception, you could have son-mother-in-law and daughter-father-in-law dances to show appreciation for the bride and groom's new set of parents and family. You could also have each member of the bridal party say a quick story or memory with the bride or groom instead of having the traditional maid of honor and best man speech.
There are so many ways to personalize your wedding to fit you and your groom. Implementing some of these more non-traditional wedding trends will make your wedding stand out and give your guests a slightly different experience than they are used to! Interested in speaking with an Eventrics professional about planning your wedding? Contact us today for a complimentary consultation.