Tell us a bit about the wedding planning experience from your end!
Pooja + Matt: It was definitely a challenge coordinating 2 couples and our parents.  The experience truly did bring out our individual strengths.  It was amazing that we were able to do as much as we did; it felt like working two jobs!
Pallavi + Scott: The part of wedding planning that I enjoyed the most was figuring out ways to make each event special and distinct while keeping them cohesive. For example, when designing the invitations I wanted a leaf motif to connect all the elements. For Pooja and Matt's wedding invite we went with Eucalyptus, for mine and Scott's it was Palm Fronds, and for the joint reception we chose Monstera. We even printed our programs on Monstera leaf cut-outs that doubled as fans. These plants tied into the decor of each event and honored the unique beauty of each location. Pooja and Matt wanted a rustic romantic vibe, which Lady Jean Ranch really lent itself to. Scott and I prefer a more clean, modern aesthetic and wanted to showcase rich fall colors in our wedding decor at the Wyndham Grand Jupiter. We all loved the Palm Beach-y tropical elegance of the Pelican Club and wanted to play that up with our monstera and orchid centerpieces and bring a little more glam with some copper/bronze geometric vases and hanging terrariums.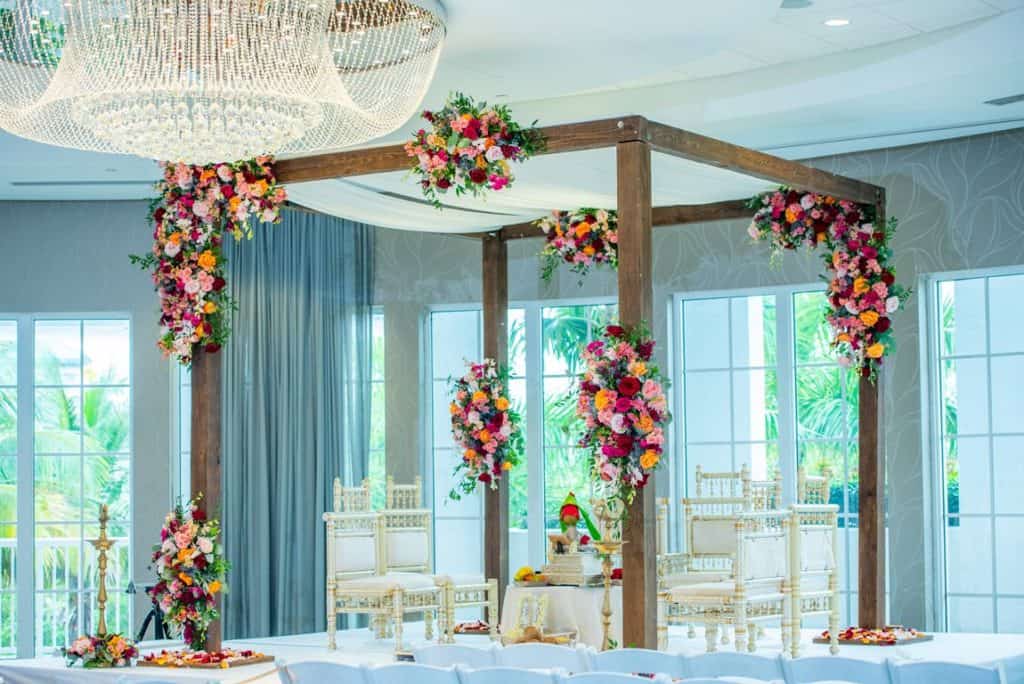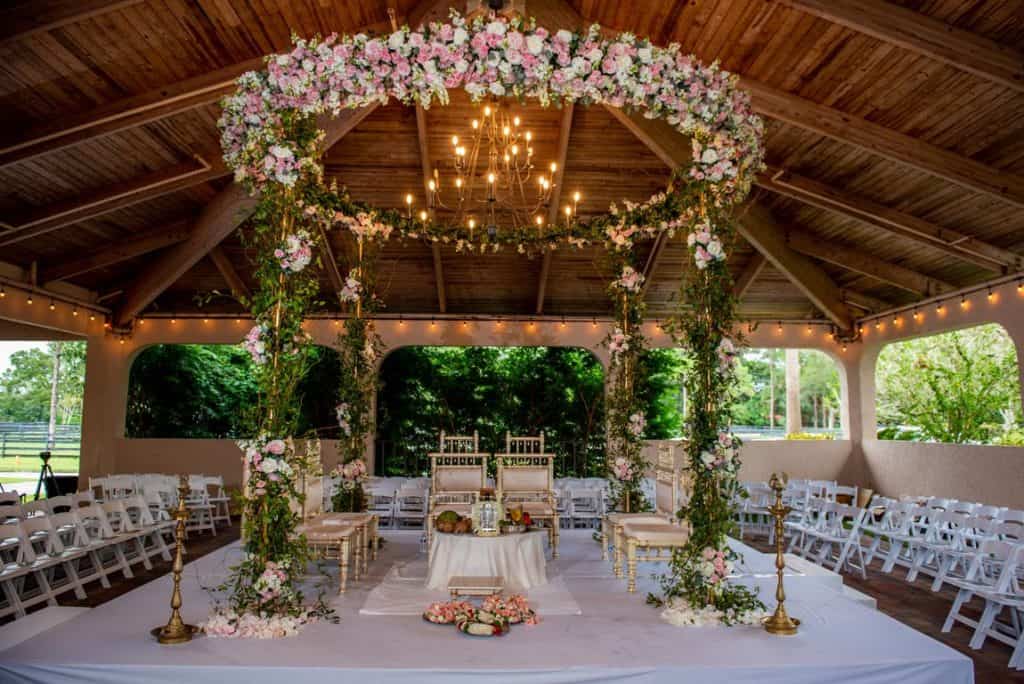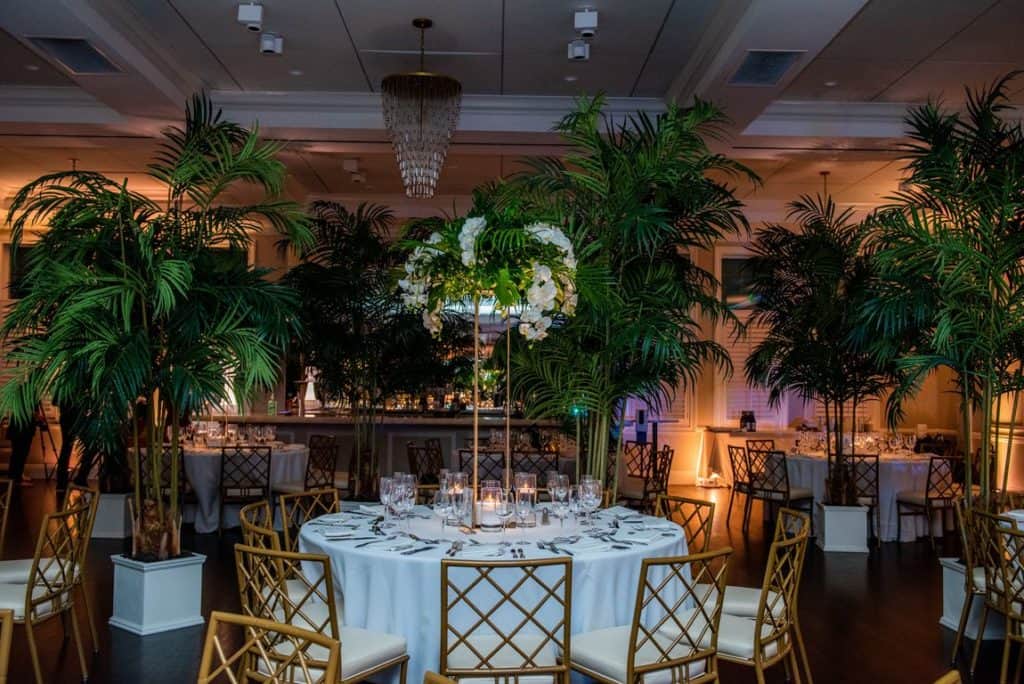 What were some of your favorite details about your wedding?
P+M:  The challenge of getting all of our outfits in India was a once-in-a-lifetime experience and it was amazing to get to see all of the looks come together.  We really felt we knew every little aspect of the wedding, so it was great to see them come to life and get to see our guests experience these things.  Matt and I found a coconut vendor at the local Lake Eola Farmers Market and approached them to see if they could come to our wedding.  It was such a small world because they actually harvested their coconuts in Jupiter where the wedding was, so they said they would be happy to be a part of the wedding.  Getting to see everyone enjoy their coconuts and the photos of everyone walking around with them are really special to us!
P+S: I think it's the personal little touches that really stand out and guests remember in the end: the coconuts at Matt and Pooja's ceremony, the churro dessert truck at the Sangeet, Scott's baraat procession continuing through the hotel all the way to the ceremony space, our grand entrance by boat just as a storm was rolling in, and the incredible energy and talent of our live band (Paradigm Party Band).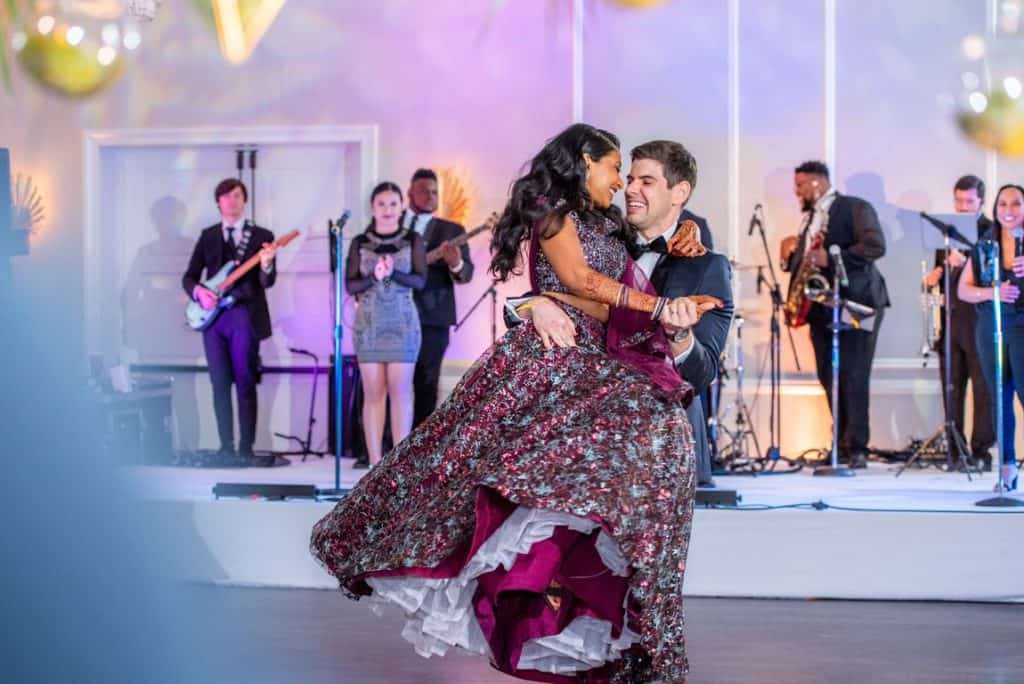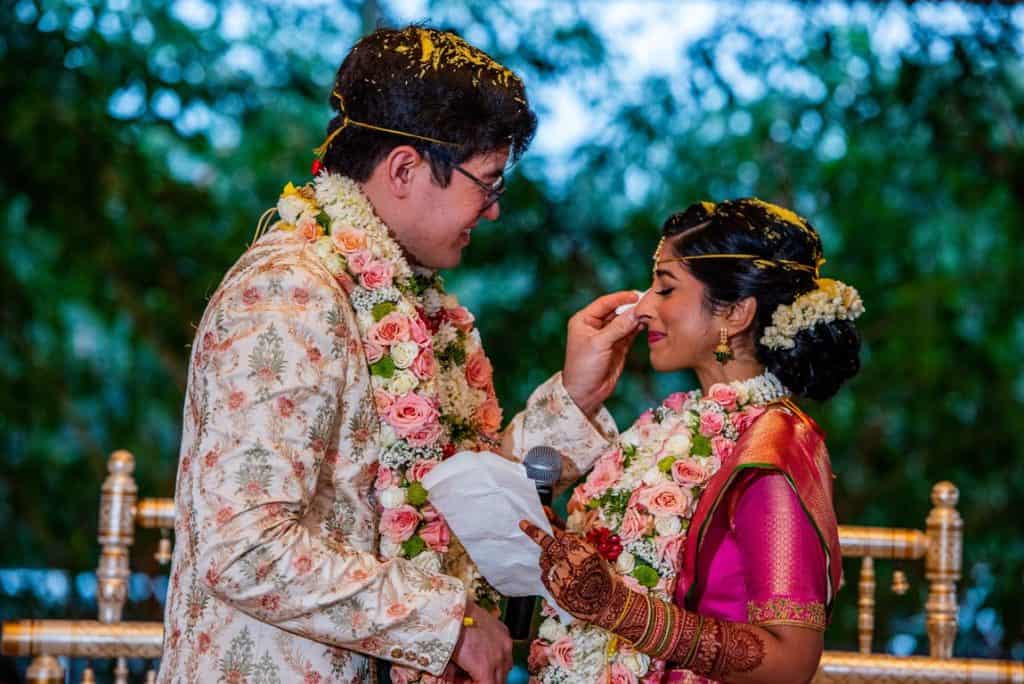 What was the most challenging part of planning your wedding, that you were expecting to be easier? 
P+M: The contracts.  I did not realize how many contracts were involved with the wedding process and it felt like we were part time lawyers trying to review all these contracts and keep them straight in our heads.  We thought vendors would be more communicable about their financial deadlines and it was hard to keep straight.  We eventually made a huge spreadsheet of every contract and deadlines just to be able to keep everything straight.  It was especially hard because we had so many different people communicating to different vendors.  The final two weeks before the wedding became a bit hectic  no matter how well we thought we had planned and that surprised us. 
P+S: I thought that shopping for wedding outfits would be a lot of fun, but it ended up being super stressful and exhausting. We decided to go to India for the wedding shopping which had the benefit of more selection and lower prices, but we had to do a lot of legwork and make decisions quickly as we only had 8 days to get it all done! The bridal party outfits were especially challenging to find multiples of the same outfit. In the end, our hard work paid off and everything ended up coordinating really well.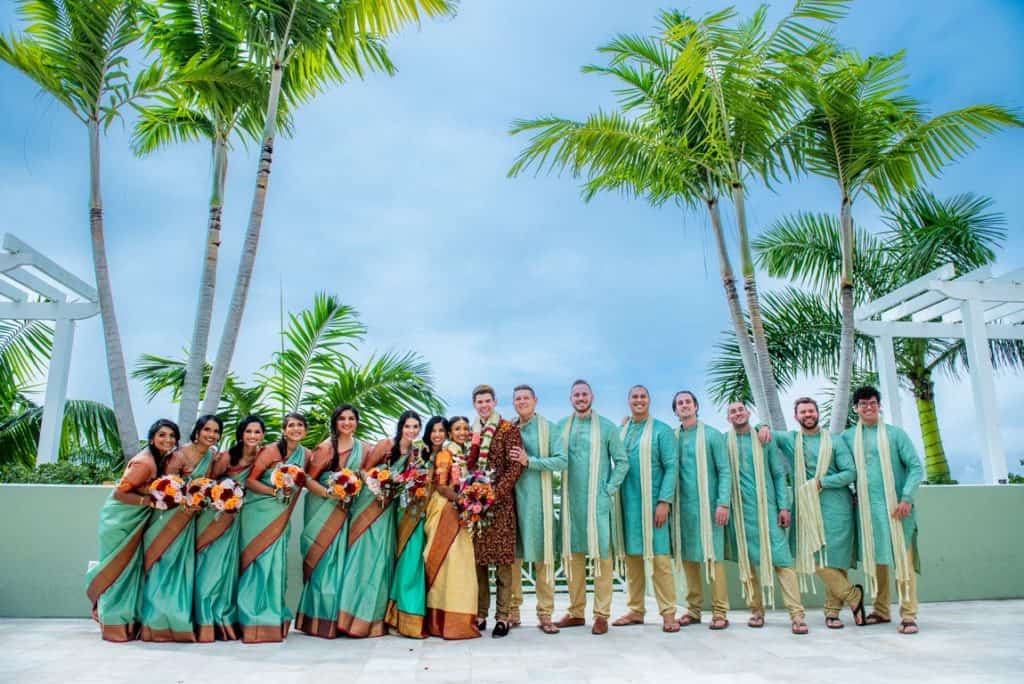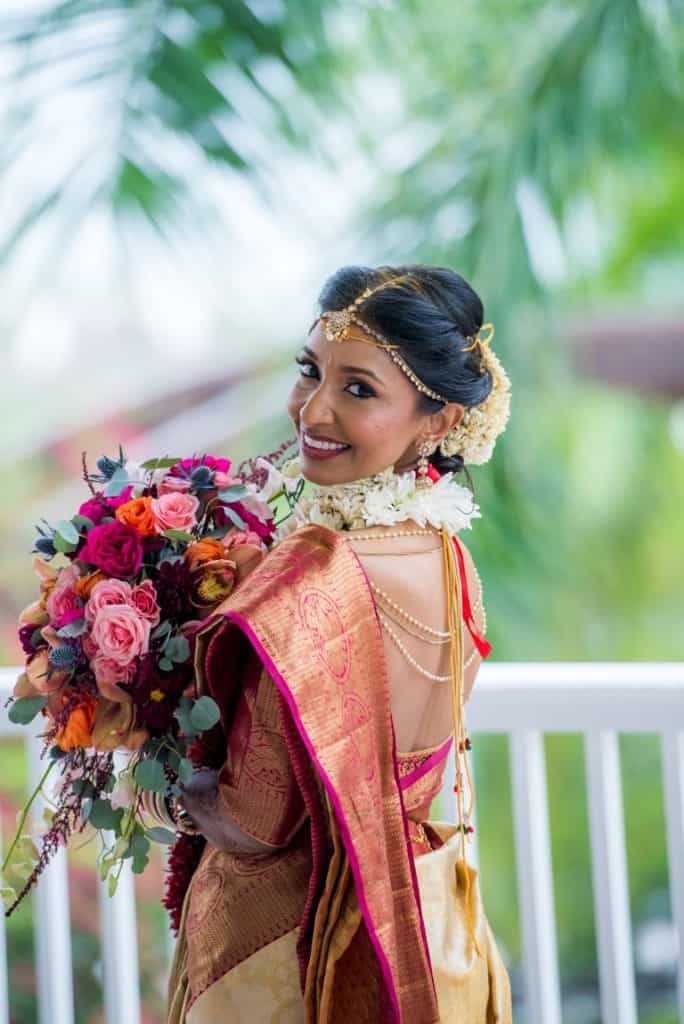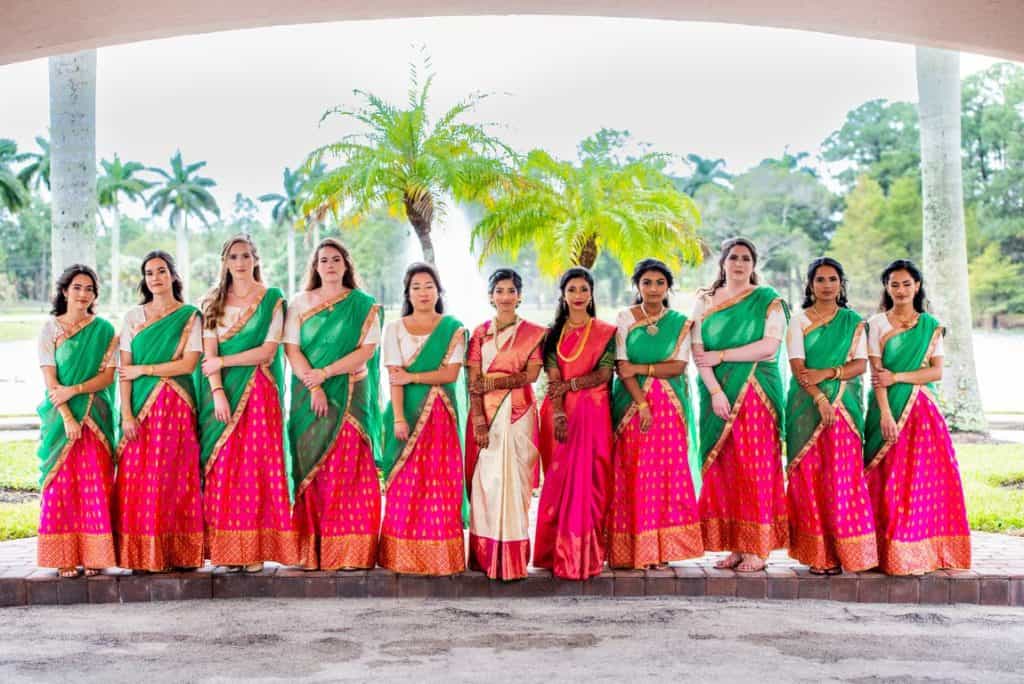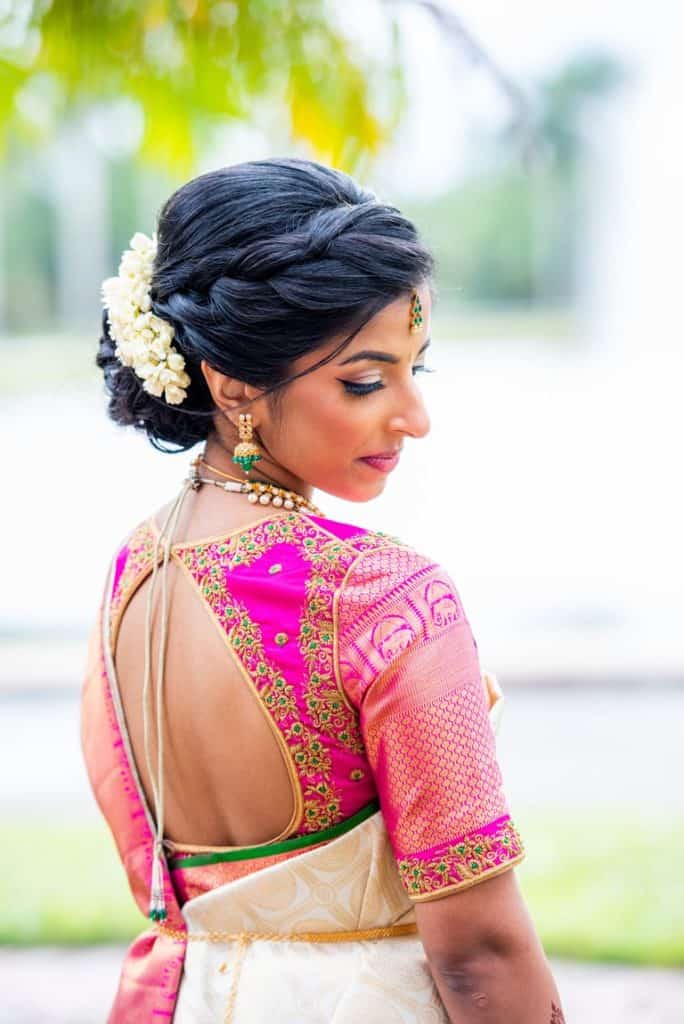 Looking back on your wedding day, is there any advice you would share with future brides & grooms? 
P+M: Would recommend paying extra attention to the hotel block contract.  This was the most difficult for us and became the biggest headache.  I would start that spreadsheet I mentioned immediately and outline aspects of a contract with financial deadlines from the very beginning so you do not have to keep referring back to contracts months later.  
P+S: There were some things I thought I could put off until closer to the wedding – like assigning tasks to bridesmaids, speeches, first dance -that I wish I had done sooner. The last month before the wedding there were so many big items still to be finalized, that it didn't leave much time for the smaller details. My advice would be to do as much as you can in advance, even if it seems like overkill. At the beginning of the wedding planning process there are a lot of big-ticket items to do like booking venues and vendors and finalizing invitations, but once that is complete there is a little bit of a lull before the next wave of tasks. Use that time wisely to figure out what is important to you and put safeguards in place to make sure you have your bases covered. Designate one of your bridesmaids to be in charge of keeping touch-up items on hand (lipstick, blotting sheets, gum, etc). Have someone else make sure you get something to eat. None of us really ate much over the weekend – we were so busy talking to guests and taking pictures. Have one or two Aunties in charge of the puja items. Don't forget about clean-up and making sure someone retrieves all important items. Delegate as much as possible, but make sure everyone knows specifically what their task is in order to minimize confusion and allow you to be able to relax and enjoy the weekend.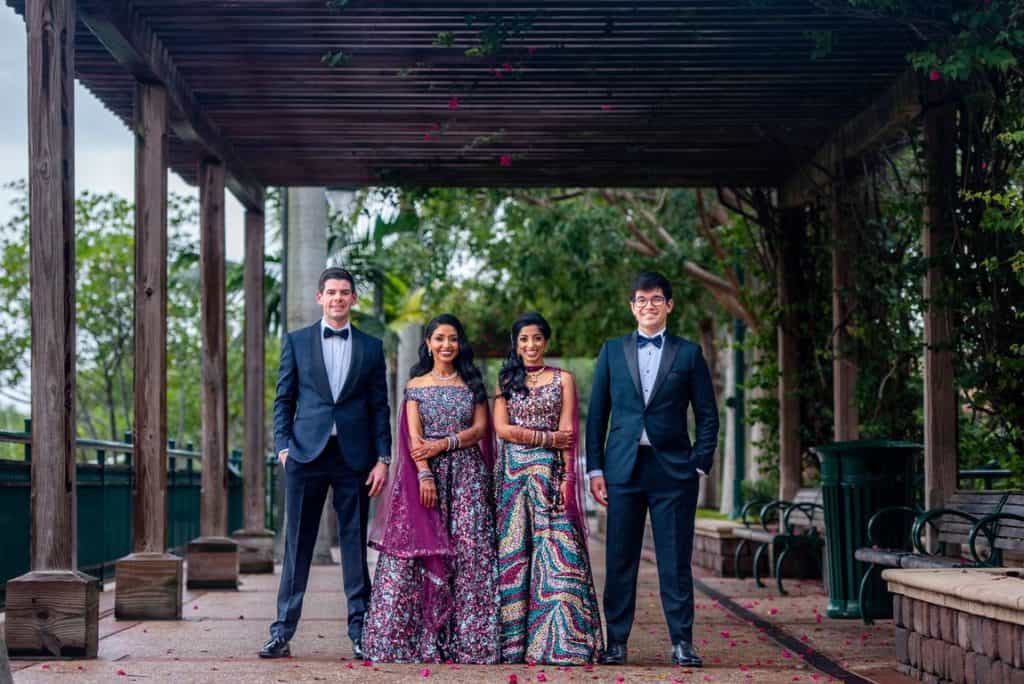 How did you all decide to share a wedding weekend? Was this something you had hoped for growing up, Pallavi & Pooja? Or did time & fate just come together at the right time?
P+M: Most definitely NOT something I had ever thought of.  It actually started as a joke once Matt and I got engaged in Oct 2019.  We knew Pallavi and Scott were also nearing the engagement step in their relationship.  We were joking about how funny it would be if we did a double wedding.  Then March 2020 hit and COVID made that joke into a reality.  The initial thought sounded funny, but the more we thought about it, the more it made sense.  My sister and I have similar tastes and, especially during the pandemic, to be able to have our friends and family be able to make only one trip to celebrate us both seemed the most practical.  We also both don't love being the center of attention, so it was actually perfect to help with any nerves.
P+S: It started out as a joke, but the more we discussed it, the more sense it made. Especially considering the rapidly changing travel regulations during Covid times, we wanted to make it easier for our family and friends flying in for the occasion. It might not be the right decision for a lot of people, but it was the right decision for our family. It was an unforgettable weekend and I cherish being able to share it with my sister.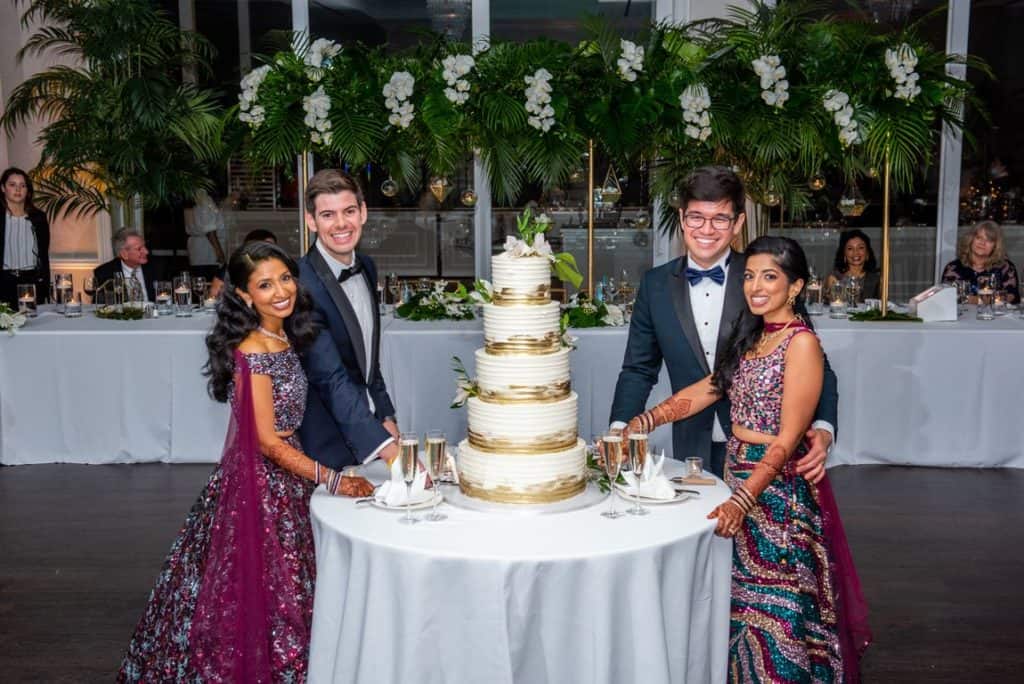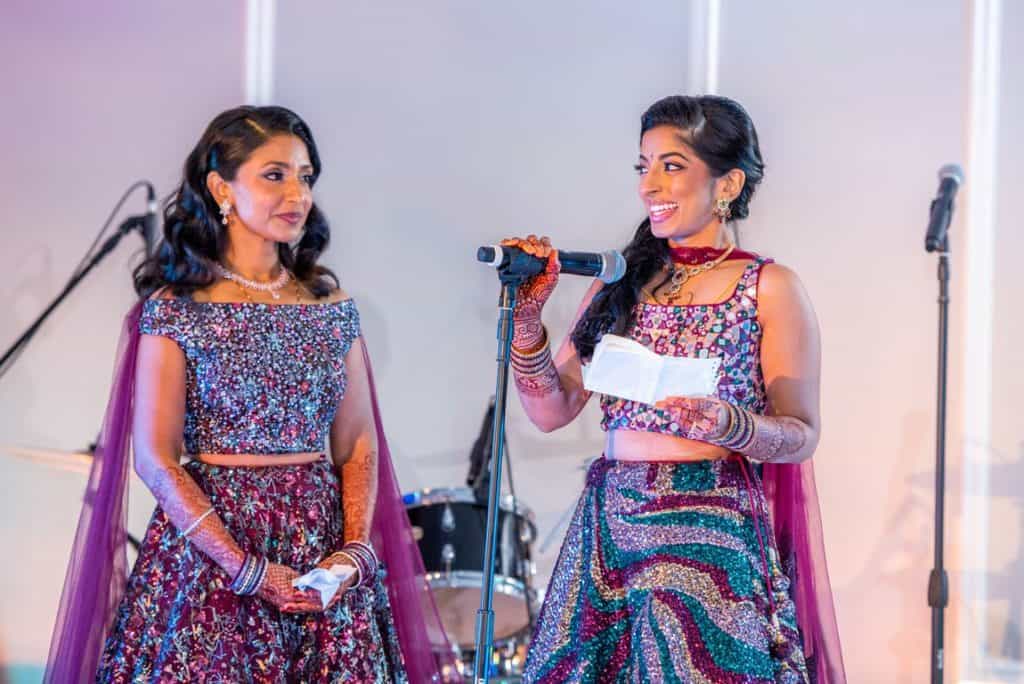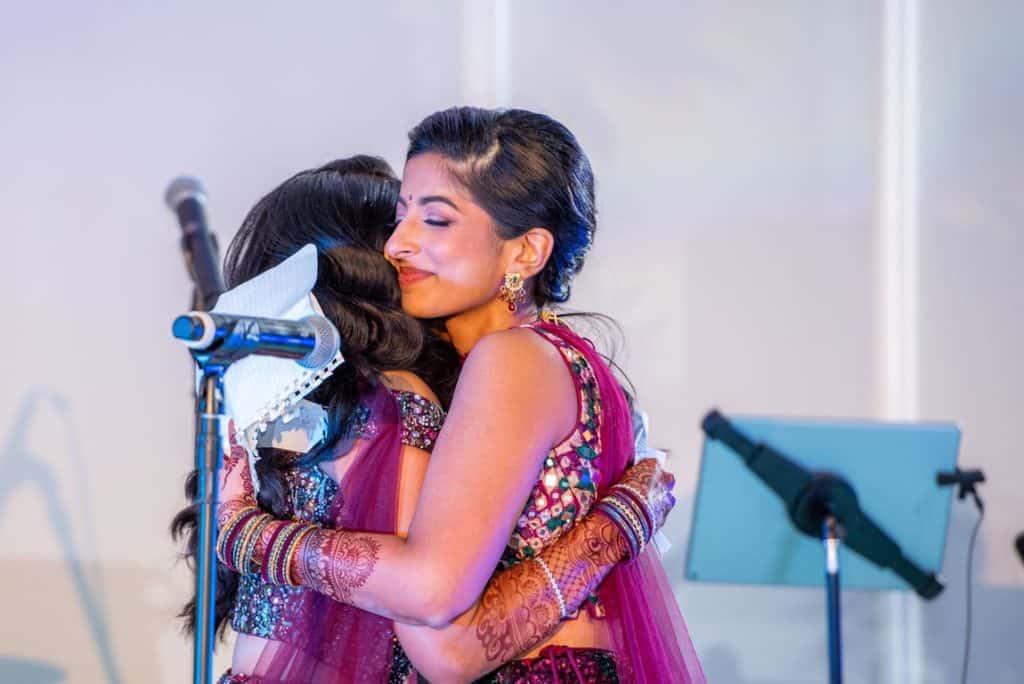 Speaking of sharing a wedding weekend, were there any challenges you faced that you did not expect with multiple events going on?
P+M: We had to have a really tight timeline.  There was so little turn around especially from Pallavi's wedding on Saturday to getting ready for the reception that evening was a bit of a hustle.  Tiffany and her team from Bronze + Glow Beauty really deserve a shoutout for their flexibility and quality work in getting our makeup beautifully done in a timely fashion.  Overall, the Eventrics Weddings team kept us on time and I was shocked that we even ran on the early side on Friday.  A first for our family!
P+S: Honestly, not really. We had to make sure we really planned everything down the second. Making a realistic timeline and sticking to it was key when having so many events packed into one weekend. There was very little downtime (and very little sleep) but we made it work. We made sure to spread out our speeches and performances over the Sangeet and the Reception so that no individual program would run too long.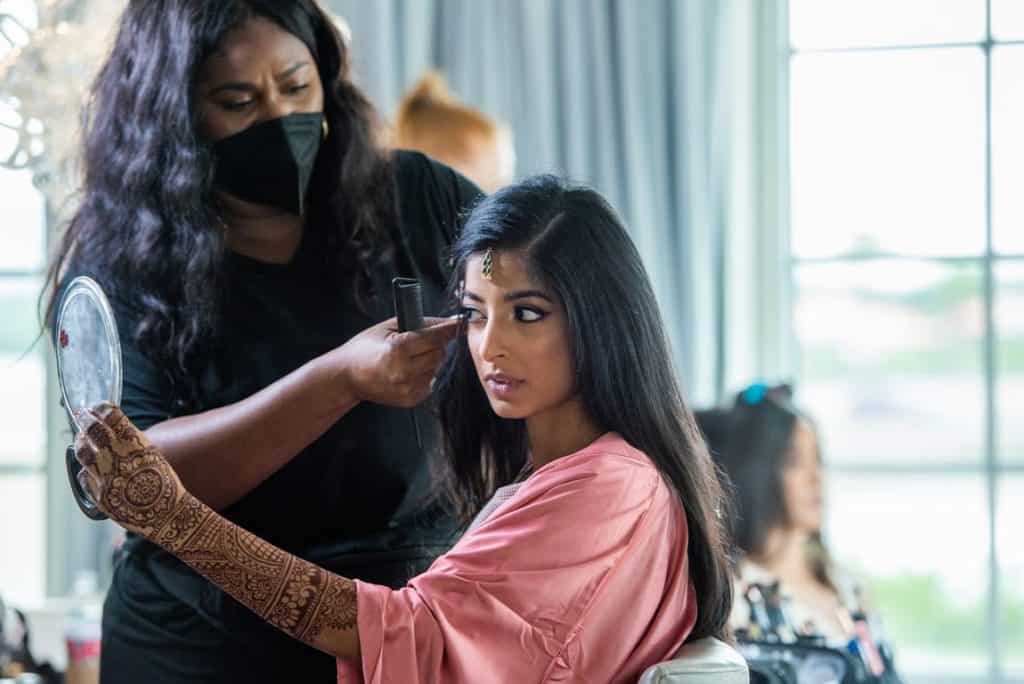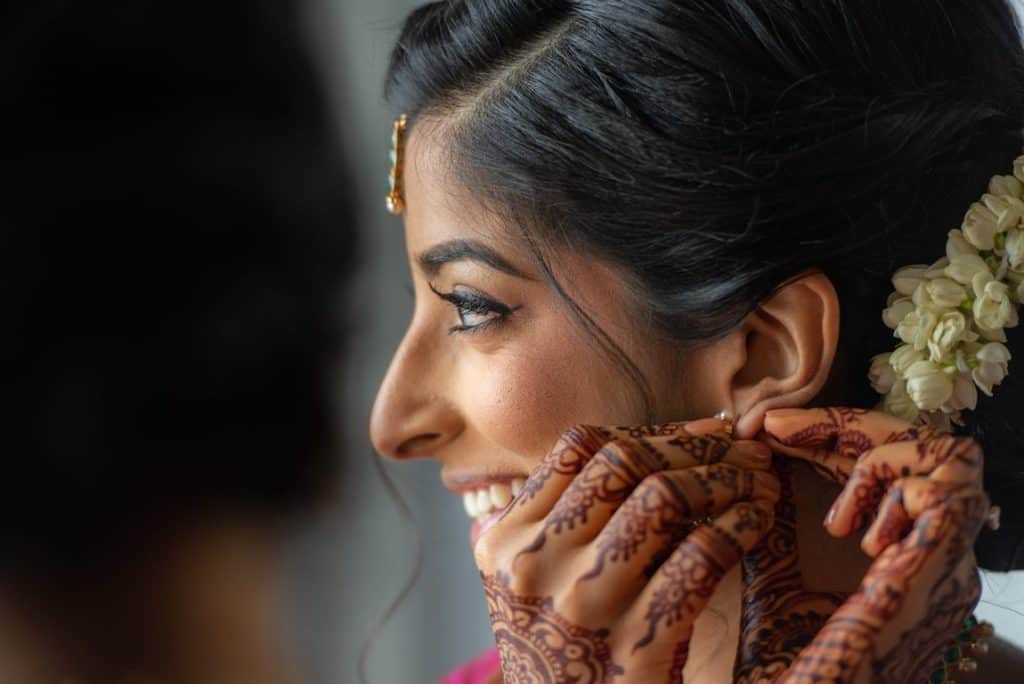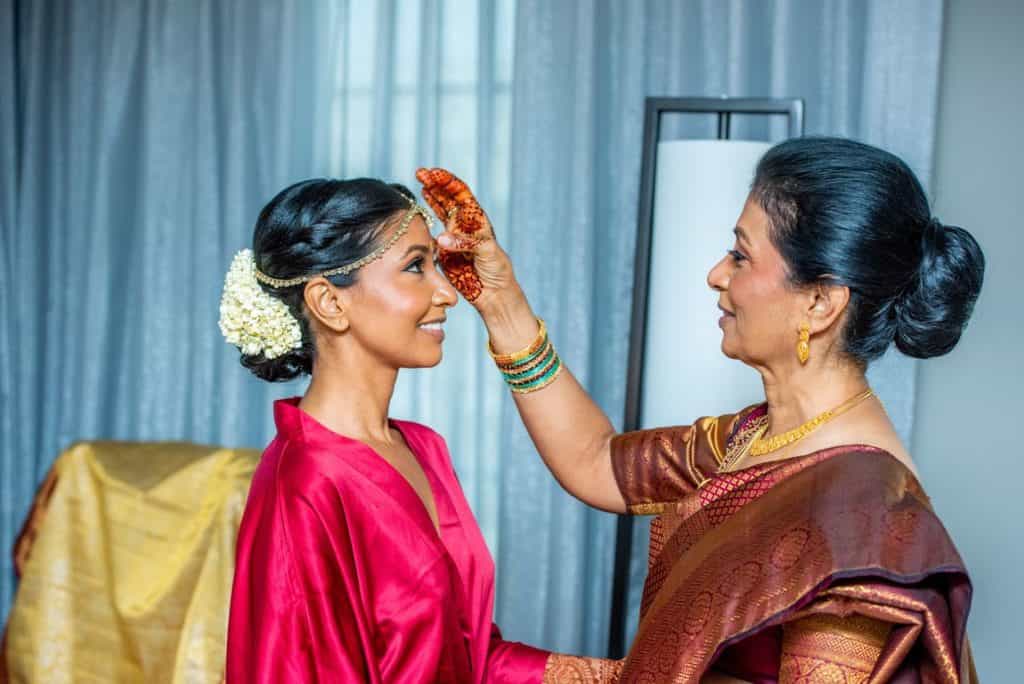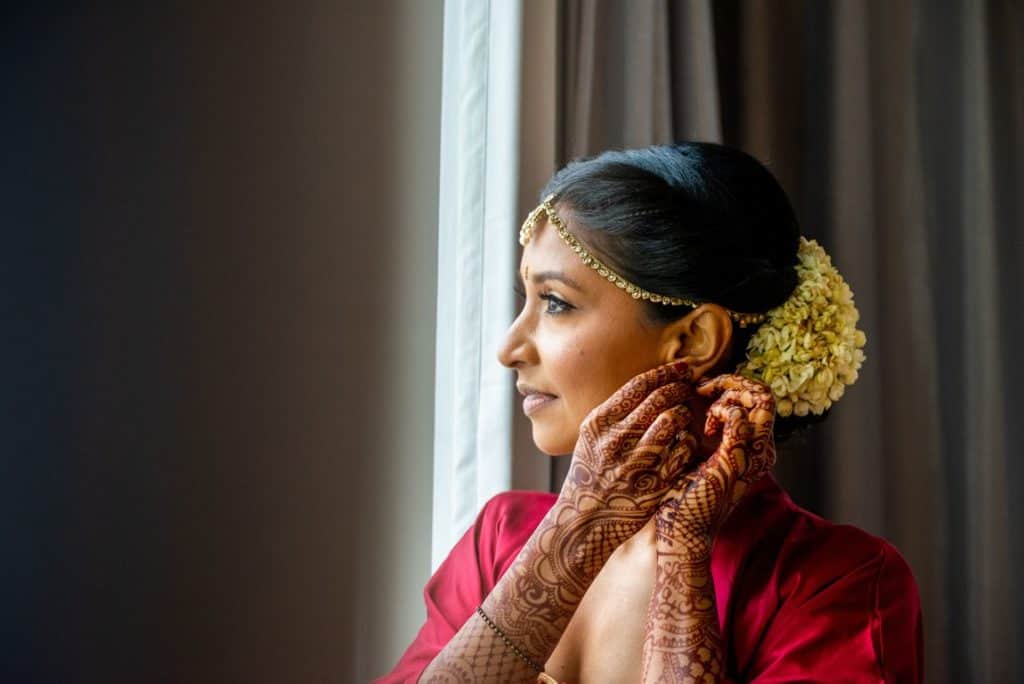 How did you determine & organize your guest lists & who was to be invited to each event?
P+M:   That would be another challenge to a joint wedding. We had a decreased guest count since it was ultimately 3 sets of parents and 2 couples.  But we all managed to be happy in the end!  We each made individual guest lists and then compiled them.  A lot of our family and friends overlapped so we went through the guest list multiple times and had a color coding system to say which guest was invited to which events.
P+S: The main thing we had to sacrifice with having a double wedding was limiting our guest lists. This was the thing that caused the most friction and arguments during the whole process, but it was necessary. We also sent out Save the Date announcements and our wedding invites on the earlier side so that we could secure our RSVPs earlier and invite more people on a rolling basis. In the end, it all ended up working out and most of our loved ones were able to make it, for which we are very grateful.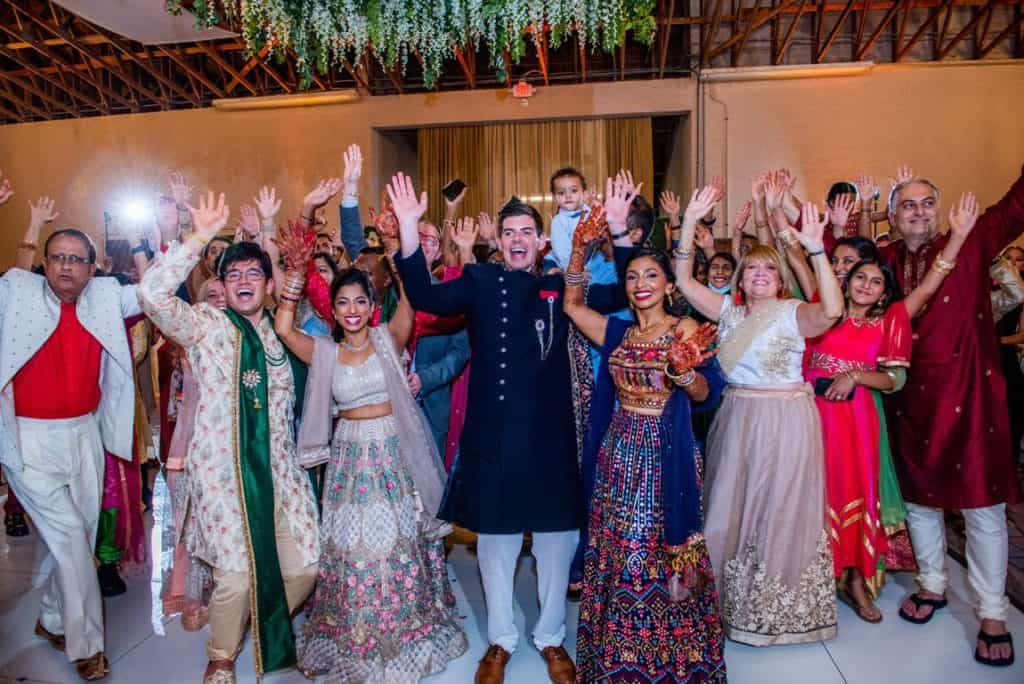 Anything else you would like to share about your planning experience, wedding, etc.?
P+M: We are so grateful we got to have a double wedding. It was truly the happiest weekend we have ever had.  We were so blessed to also have a break in COVID counts and it felt like it was a huge release for everyone.  It was the first time we had even been in a group setting in a long time and it felt so special.  It unfortunately did rain that weekend, but planning a double wedding during COVID really puts everything in perspective.  We were able to have the majority of our loved ones surrounding us and that energy was felt all throughout the weekend. 
I encourage couples to still try to do what is true to them.  Indian weddings can become very cookie cutter unfortunately.  You forget that you can make certain choices.  My sister and I were adamant that we did not want a "hotel ballroom wedding".  We had a lot of pushback from our father, understandably so, because it really did mean a lot more planning to simply get guests to the locations.  But we ended up with a rustic barn wedding surrounded by nature, which was really important for Matt and I and a waterside reception with a boat entrance that was truly unique.  Matt and I also opted to share our own vows, which was something unusual for a classic Hindu ceremony, but despite the nerves, it was one of the most special moments of the weekend and we are so glad we decided to do it.  We also pushed for a live band, which we've never seen at an Indian wedding, and we were blown away with how fun it was having Paradigm Party Band at the reception.   Ultimately, stepping outside of the box paid off and was worth the extra effort. 
P+S: We are so grateful to the Eventrics Weddings team, most of all Brittany, and all of our incredible vendors, especially Remmal from OBS Events (Occasions by Shangri-La), Soye from Madras Catering, and Tiffany from Bronze + Glow Beauty who made our wedding weekend such a success! We got such great feedback from our friends and family about everything, but the most common comment is how much fun they had at our wedding. After almost two years and countless hours of planning, it is so gratifying to know that we met our main objective and all our guests had a great time.