As any wedding planner knows, creating a timeline of events and details is the best way to stay on top of the planning process. Believe it or not, a timeline can be created months ahead of the wedding. They key is to create a rough timeline ahead of time and continuously update it over time with any changes. However, a noteworthy wedding timeline doesn't simply outline start and end times of events. It serves as a minute to minute rundown of every aspect of the wedding day including vendor contact numbers, responsibilities of each team member, as well as any small pieces of information that may be needed such as order numbers. It's imperative that every vendor, member of your event coordinating team, and immediate family member of the bride and groom has this timeline before the wedding. We've put together some key points you should consider while creating your wedding day timeline to ensure a smooth and successful day!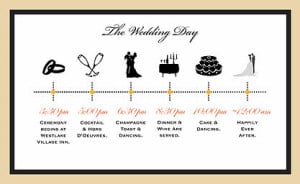 For a wedding planner, the wedding day starts far before the day itself. The timeline should reflect exactly that. Prior to the event, the following things should be included in the timeline. Be sure to indicate at every point in time which member of your coordinating team is overseeing and responsible for that task!
Rehearsals and rehearsal dinners
Set up time of each vendor at the venue (include contact numbers)
Sound check time
Detailed schedule of the rehearsal dinner (include toasts, announcements, and music cues)
Wedding day arrival times of vendors/caterers for set up
Locations for parking and unloading
Contact information of each vendor
Be sure there is a member of your own team to greet and guide the vendor to their location Note: Confirm each vendor's setup and strike details at least twice prior to the wedding to avoid miscommunication!
Arrival times of your own event coordinating team
Contact information of each member
Assign each task to a member of the team
Items that need to be picked up and delivered
Include location and point of contact Note: Whoever is picking up rental items should have a copy of the invoice with them to double check the order
Once the wedding starts, you should take into account the following things:
Official start and end time of the wedding and reception
Include any transportation information if needed (valet start time or vehicle arrival for bridal party)
Transition times between the wedding and reception
Be mindful of traffic and loading/unloading time
Cues for Band/DJ
Include any prepared song lists and music cues for grand entrances/exits
Serving of food during reception
Be sure to allocate a time for your vendors to eat their vendor meals
The timeline does not end at the finish of the reception, however! A post event to-do list will help you wrap up the event in a timely and organized fashion:
Breakdown time slots for vendors
Delivery of rental items and location
Include responsibilities for the bride such as making sure thank you notes to guests and vendors are sent
Looking to hire a wedding planner for your special day? Contact Eventrics today for full wedding planning services and management!